UDTS | Christian Leadership Program Information
UDTS Home | Admission | Academic Calendar | Master's Registration Info | Christian Leadership Program Info | Christian Leadership Program Registration Info | Continuing Education
---
"I want to take this opportunity to tell you how beneficial the CLP courses have been to me. It is amazing how much I learned and how much I use on a daily basis. It is a good program."
- Nanette Cagney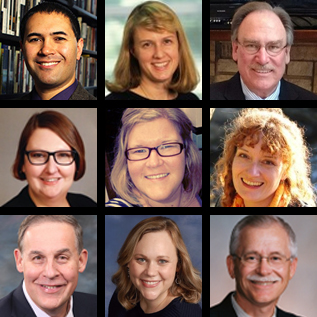 CLP Curricular Goals
1. Be formed by, live in, and minister out of Scripture and the historical and theological tradition of the Church.
2. Educate and equip individuals and congregations to live and minister joyfully and faithfully as part of their own denomination and the ecumenical church.
3. Integrate theology and practice in all areas of life and ministry.
The overall goal of the Christian Leadership Program of UDTS is to strengthen the church through quality theological education for lay persons. While the courses offered are particularly designed for lay pastor candidates, they will serve the needs of all lay persons who are contributing their gifts to the ministry of their local church. Church officers, Christian education leaders and teachers, and persons who wish to deepen their understanding of the Christian faith will discover a rich opportunity through this program.
Classes are offered asynchronously and online (no residency component) through moodle.dbq.edu. Participants benefit from a theological education, including online interaction with faculty and other students. All online students are required to take the Online Learning Certification (OLC) as a prerequisite to any core course.

The University of Dubuque Theological Seminary is not a certification agency for ministry. As with ordained ministry, lay ministry is certified through the individual's denominational judicatory (Presbytery, Church and Ministry Committee, or Local Church, depending on denominational background). UDTS does, however, certify the completion of courses.
---
Getting started with our program
Fill out an online application.
Based on the information you provide, our staff will contact your reference.
Upon acceptance you will receive an email from us. Reply to the email with the courses you would like to initially register for.
CLP Staff will complete your initial course registration and will provide you with your UDTS login credentials and access to the OLC.
We require all of our online students to take Online Learning Certification (OLC). This course is designed to give students an introduction to online learning. During this experience, you will master the tools and techniques that make online learning a rewarding experience. The OLC course consists of eight lessons that will be completed in four weeks. When you have completed the course, you will be equipped to use our learning platform for online courses.
*Please note: It is recommended for students to enroll at least two weeks before the beginning of a semester.
Please contact Becky Shellabarger, Director of the Christian Leadership Program, with questions at 563.589.3261 or DERegistration@dbq.edu.
---
Course Information
This program offers eight core courses required of Presbyterian Commissioned Ruling Elders (CREs) in the Presbyterian Church (USA) "Book of Order." At the same time, the content, for the most part, is basic to many mainline denominations. Persons from the Reformed Church in America, the United Church of Christ, the United Methodist Church, and the ELCA have participated in these classes. This curriculum is intended to be used for elder and lay leadership training. Some congregations use this program for teacher education.
---
Advanced Courses / Continuing Education
Courses for advanced studies and continuing education opportunities are offered periodically in addition to the basic curriculum. We have offered courses on The Life and Theology of Paul, Connecting with the Congregation, Discerning a Call to Ministry, Church Administration and Finance, and Christian Leadership Ethics. If you are interested in an advanced course or continuing education, please contact DERegistration@dbq.edu.

---
Course Schedule, Load, and Assessment

The Christian Leadership Program follows the same semester dates as the University of Dubuque Theological Seminary's Academic Calendar. Fall and Spring semesters span 15 weeks (includes 12 weeks of classes, two research/reading weeks, and one exam week); the Summer term spans 12 weeks. The work required in a CLP course is equivalent to a one-credit college course. The standard for this would translate to:
300 - 500 pages of reading
7 - 10 pages of writing assignments
3 - 4 hours per week of class participation and preparation time
We suggest participation in no more than two courses at any one time if you are working full time outside of the home. If you are planning to study full time, you may enroll in as many classes as you wish. Each core course is offered every Fall and Spring semester. Summer offerings are based upon demand and instructor availability.
The student's progress in achieving the course objectives will be measured through examinations, writing assignments, weekly online discussions, and electronic group assignments. To pass a course, a student needs to participate on time in at least 75% of the course, and do passable work on the course assignments per the instructor's syllabus.

---
All eight courses are offered in both the Fall and Spring of the academic year. Summer offerings are based on demand and instructor availability.
Introduction to Old Testament
Introduction to New Testament
Pastoral Care

Presbyterian Polity
Reformed Theology
Introduction to Preaching
Foundations of Christian Education
Reformed Worship and Sacraments
Cost of the Program
(Subject to change)
Tuition and Withdrawals:

Core Courses and Electives

$390.00



Books are in addition to tuition. Many students comparison shop online and get their books through such national sites as Amazon, Barnes & Noble, Alibris, Christianbook, AbeBooks, etc.
Withdrawal/Refunds - If a student withdraws within one week following the start of the term, a refund of one-half of the class charge will be issued. If a student withdraws after the first week, he/she will be eligible for a pro-rated refund. Withdrawals after four weeks are not eligible for a refund. Classes dropped after the tenth day will be considered a withdrawal and will result in a W on the transcript. No withdrawals will be allowed after the eighth week of class or the published withdrawal deadline.

Credit for Coursework: Certification for Commissioned Lay Pastor/Commissioned Ruling Elder
We do not offer certification for lay ministry. As with ordination, lay ministry is certified through the individual's denominational judicatory. We provide the courses and evaluations, which may be used by your Presbytery, Association or other judicatory in your process of becoming a lay pastor.
The CLP courses are graded on a Pass/Fail basis. Passing a course is earned by successful completion of each instructor's course requirements. The courses do not carry seminary or university credit; however, we do offer CEUs (continuing education units) for successful completion of each class.
---
Certificate in Congregational Leadership and Commencement Participation

Once you have completed all eight of the University of Dubuque Theological Seminary's core Christian Leadership Program courses, you can apply for a Certificate in Congregational Leadership, and you are eligible to participate in our Spring Commencement Ceremony!
---
Is Online Learning Right for Me?
Online education is exciting and convenient! It requires active participation in the course work, a high level of motivation, a strong sense of discipline, and a willingness to work in a group as well as independently. A basic level of computer proficiency is required for successful completion of an online course. Students should be comfortable with navigating a web browser, email, opening word or video files, uploading files, and using a word processor. The Online Learning Certification course will help you become familiar with working in the online environment.

---
Technical Requirements | Basic Hardware / Software Requirements | Email & Internet
Students must have a working email account and be comfortable with their email program: sending email, receiving email, and opening and sending attachments to email are all things necessary for our program.
Students must have a working Internet connection and an Internet browser installed on their computer. Microsoft Internet Explorer and Netscape versions 4.0 or higher are both acceptable. We do not teach basic internet navigation. You should have this skill before enrolling in our program. Some helpful basic Internet courses can be found at:
Windows (PC)

Windows 2000, Windows XP, Windows 2003, Windows Vista or newer
Display resolution of 800x600 pixels or greater
Windows-compatible sound card
Microsoft Internet Explorer 6.0 SP1or later, or Firefox 2.0 or later
Windows Media Player 9.0 or later
Broadband Internet connection (256 Kbps & above) for live and on-demand presentations
MAC
MAC OS X or greater
Install one of the following browsers to play Video presentations that are required in some online classes:

Safari 1.0.3 or later (Safari 1.2.4 & above recommended)
Firefox 1.0 or later
Netscape 7.2 for Mac OS X

You must also install Windows Media Player 9 for the Mac.
A Community after God's Heart:
Shaped by Faith in the One God,
Father, Son, and Holy Spirit,
We seek to follow Jesus,
Walk in the Spirit.
Join God's Mission.
We are a Christian seminary dedicated to forming God's people for ministry and mission:
Gathering in gratitude and faithfulness, to be reformed according to the Word of God.

Growing in the Church's biblical faith in the Triune God.

Excelling in theological education and scholarship.

Engaging the changing needs of the Church and World.
Students who apply for and are accepted into classes offered through the Christian Leadership Program should understand that the Christian Leadership Program embraces and works to fulfill the seminary mission.
The Christian Leadership Program affirms the equal opportunity policy of UDTS. The Christian Leadership Program reserves the right to prevent persons from taking classes or dismiss students from classes when in the opinion of the Director of Distance Education and instructors, the student is disruptive or otherwise deemed unacceptable for the program. The normal policies and procedures of UDTS will apply to any relevant circumstances in the Christian Leadership Program.
The Christian Leadership Program reserves the right to correct errors and change or amend its rules, regulations, and procedures without obligation or prior notice and in compliance with local, state and federal laws and regulations.

Registration, Payments, and Billing
CLP students register for courses online using MyUD. Billing is sent by University of Dubuque Student Accounts.
Withdrawal from Class
Students must withdraw from classes on or prior to the first day of class in order to receive a refund.
CLP Pass/Fail Guidelines
To pass a CLP course, students must participate on time in at least 75% of the course and do passable work on the course assignments.
Class Size/Waiting List
CLP classes are limited to 20 students per course. Introduction to Preaching is limited to 12 students. If a class has reached its capacity, a waiting list will be kept. Students will be contacted if an opening occurs prior to the course date. If the number of students on the waiting list exceeds 6 students, a second section of the course will be created.
Non-Attendance at Class
Non -Attendance at class means that a student does not check in with a class instructor, complete assignments or participate in class discussions. If a student is absent from a class for two weeks and there has been no communication with the instructor, a grade of "No Credit" will be entered on the student record. Our system is designed to offer the convenience of online learning with community. This is especially important for Christian spiritual formation. You have a covenant with your classmates to not only engage the course work, but to share in the experience.
Grading
CLP courses are graded according to pass/fail guidelines.
Netiquette Internet Etiquette Policy
All posts should reflect Christian character: Do solid work, "as unto the Lord." Do your own work; "Thou shalt not steal." Be kind; "Speak the truth in love."
Plagiarism
The Seminary defines plagiarism as the copying or use of another person's work in any form without acknowledgment. Students shall not represent the work of another as their own or in a way misrepresent their own work, or the work of another. The use of any outside source, whether of idea or of paraphrase, shall be properly acknowledged. Any quotation, even of phrase, shall be marked by quotation marks. Misrepresentation shall be avoided. The first offense of plagiarism once established, will be penalized with an "F" on the assignment. Second offense, once established, results in failure of the course. A third offense, once established, may result in dismissal from the Seminary. The Academic and Student Affairs Committee of the Seminary, with the Dean, shall adjudicate all claims of cheating and, with the Dean, enforce this policy. Appeals of the decision of the Academic and Student Affairs Committee can be directed to the President through the Dean. The decision of the President is final.
Last modified: Thursday, June 22, 2023, 3:59 PM