UDTS | Continuing Education
UDTS Home | Admission | Academic Calendar | Course Descriptions | CLP/CRE Program Info | CLP/CRE Registration Info
---

---
---
Ministry in the Time of COVID - Panel Discussion
Tuesday, November 17
7:00-8:30 pm Central Time
Free to UDTS alums, students, and the general public
To register:
CLICK HERE
Panelists
Marcus Allen | Beth McCaw | Alexandrea Cordell | Keith Pitts
Panelist Bios:
Rev. Dr. Marcus Allen:
Rev. Dr. Marcus Allen Sr. is the Pastor of Mount Zion Baptist Church, Madison, WI.
Dr. Allen served honorably in the United States Army for over 10 years. He completed three combat tours: two to Iraq and one to Afghanistan. Dr. Allen has received the Bronze Star Medal which is one of the highest military honors and as well as numerous other awards.
Dr. Allen is a graduate of the Samuel Dewitt Proctor School of Theology at Virginia Union University with a Masters' of Divinity. Dr. Allen received his Doctor of Ministry Degree from Liberty Baptist Theological Seminary. Dr. Allen is the author of a new book, "I Got Next; 10 Essential Lessons for Effective Pastoral Transition."
He is married to the former Terra Cook and God has blessed them with three beautiful children: Alexandrea, MeKiyah and Marcus Jr. Dr. Allen has a tremendous desire for God's word coupled with a love for God's people. He is passionate about proclaiming the Good News of Jesus Christ, making the Word of God relevant in the lives of believers, and building the Kingdom of God in the congregation and community.
Rev. Dr. Beth McCaw: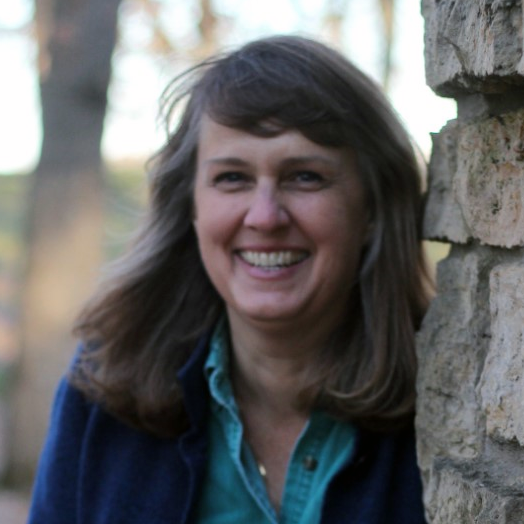 Beth McCaw is Associate Professor of Ministry at the University of Dubuque Theological Seminary, and leader for Glacier Presbytery (Montana) in the Presbyterian Church (U.S.A). In previous chapters of her vocation, she has counseled and helped direct care at a half-way house in New England, served with her husband and a fledgling church in rural Namibia (Africa), and pastored in care and outreach with a congregation in Florida. She completed a Doctor of Ministry degree in the areas of congregational systems and spiritual renewal, and an M.Div. in Pastoral Care and Counseling, at Gordon-Conwell Theological Seminary. She, her husband, and their three children enjoy photography, home-canned raspberry jam, and being on the water.
Alexandrea Cordell: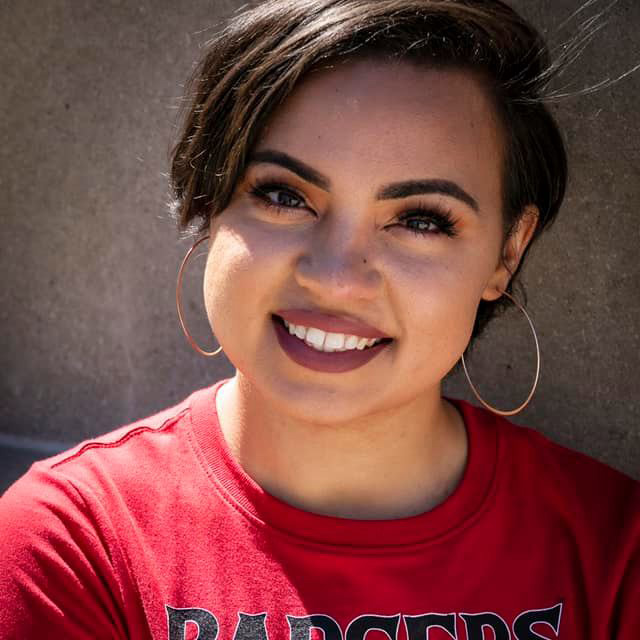 Alexandrea Cordell currently serves as the MTZ Lifeline ministry leader. She oversees all communication in the church. Alexandrea is currently obtaining her Master's degree in Information & Communication Technology. Alexandrea enjoys being able to be a voice for the church in hopes to bridge the gap between church & community. Most importantly, Alexandrea loves the Lord.
Rev. Keith Pitts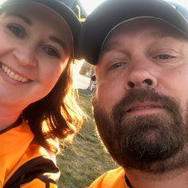 Rev. Keith Pitts is currently the pastor of Delhi and Buck Creek United Methodist Churches. I previously served as the Associate Pastor at Valley View Baptist Church for 15 years and in 2015 joined The United Methodist Church and was appointed to St. Paul's UMC in Cedar Rapids where I served first as the youth director and then was Associate Pastor of Children, Youth, and Family.
Pastor Keith received his undergrad from Moody Bible Institute, and received his Mdiv from The University of Dubuque Theological Seminary. Pastor Keith has been married to Emily (Sanders) Pitts for 21 years and they have three adopted children Jamiesha, Jamie, and Chloe. Pastor Keith is also a firefighter and an internationally certified rescue and recovery scuba diver. He enjoys waterfowl and deer hunting, fishing, building and riding motorcycles. Pastor Keith is part of the first circuit in Iowa and has coauthored the Circuit Manual for the Iowa Annual Conference which is being implemented conference wide in 2021. Pastor Keith also serves as a clergy coach and is the trainer and team leader for the IAUMC Chainsaw Response Teams.
---
Fall Berger Lecture - October 26th, 2020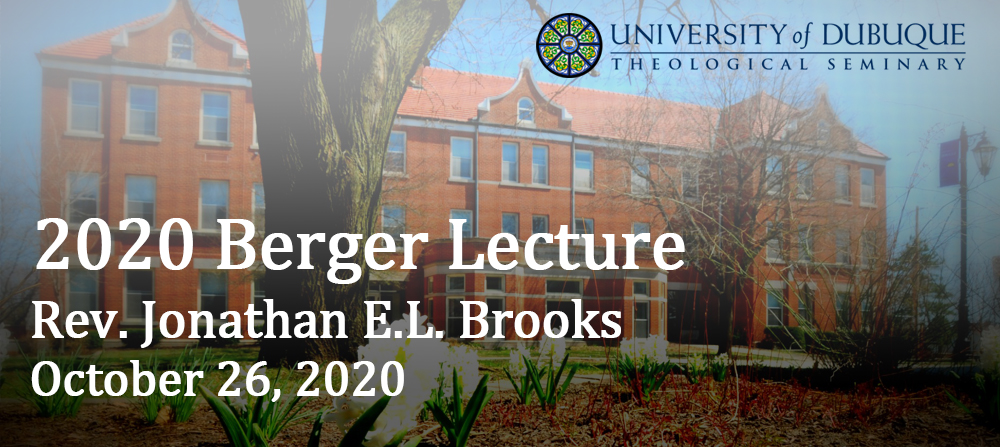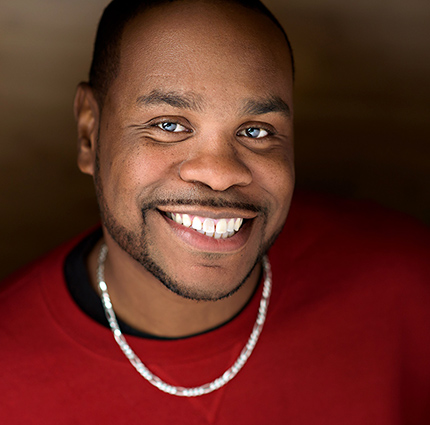 Rev. Jonathan E.L. Brooks (pastahj.com)
Monday October 26, 2020
11:00 | Worship Service – Premiered Live
"How to Spark an Ordinary Revival - Acts 2:43-47"
2:00 | Zoom workshop - register for link
"An Introduction to the Philosophy of Christian Community Development"
6:00 | Zoom Presentation – register for link
"Church Forsaken: Practicing Presence in Neglected Neighborhoods"

Links: Chapel | Workshop | Lecture
To register:
Click here
---
2019 Berger Lecture Info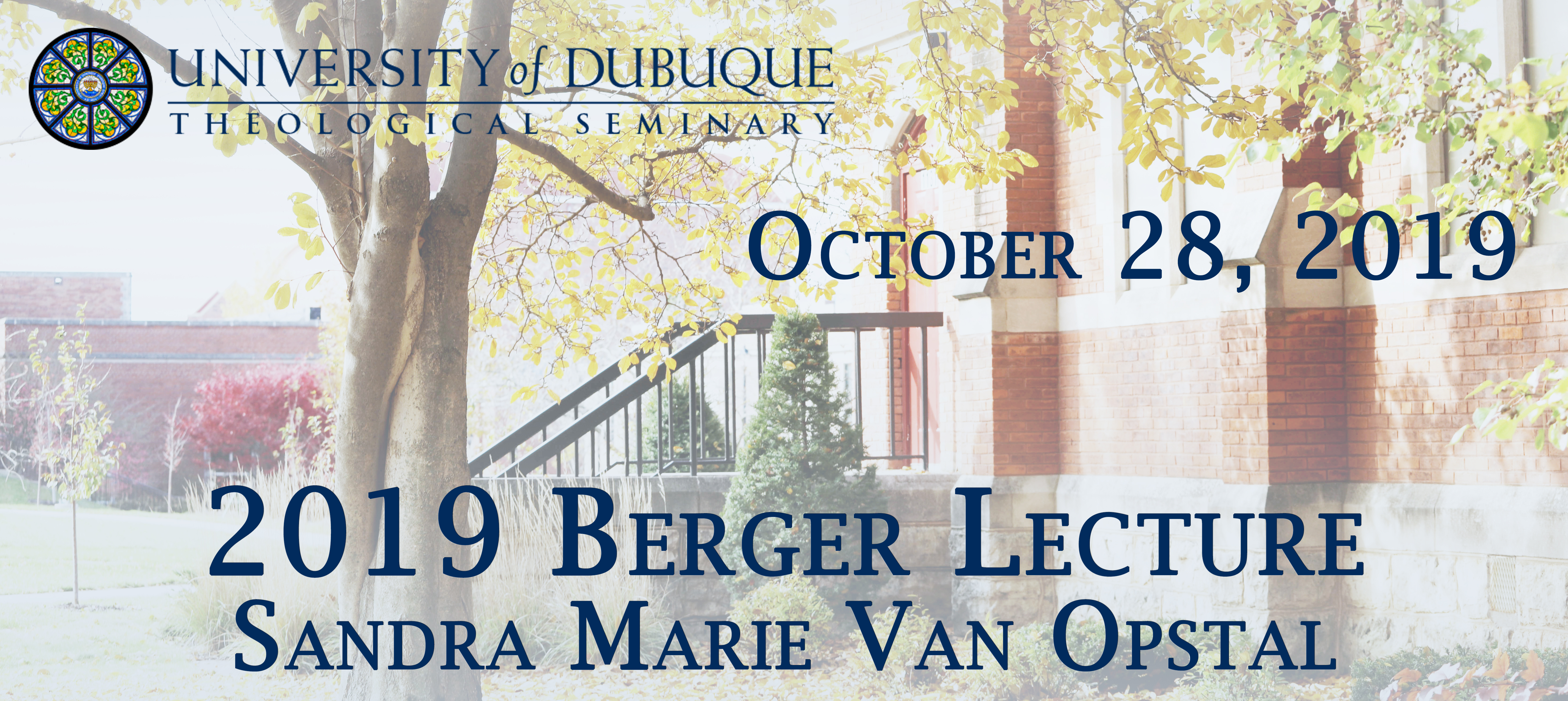 Berger Lecture
October 28, 2019
Sandra Marie Van Opstal
Co-founder and Executive Director of Chasing Justice
(For more information about our speaker, check out her website!
http://www.sandravanopstal.com/
)
Watch the videos!
Worship Service – Alumni Hall
Workshop – Severance Lounge
Lecture – Alumni Hall
---
2019 Warren Lecture Videos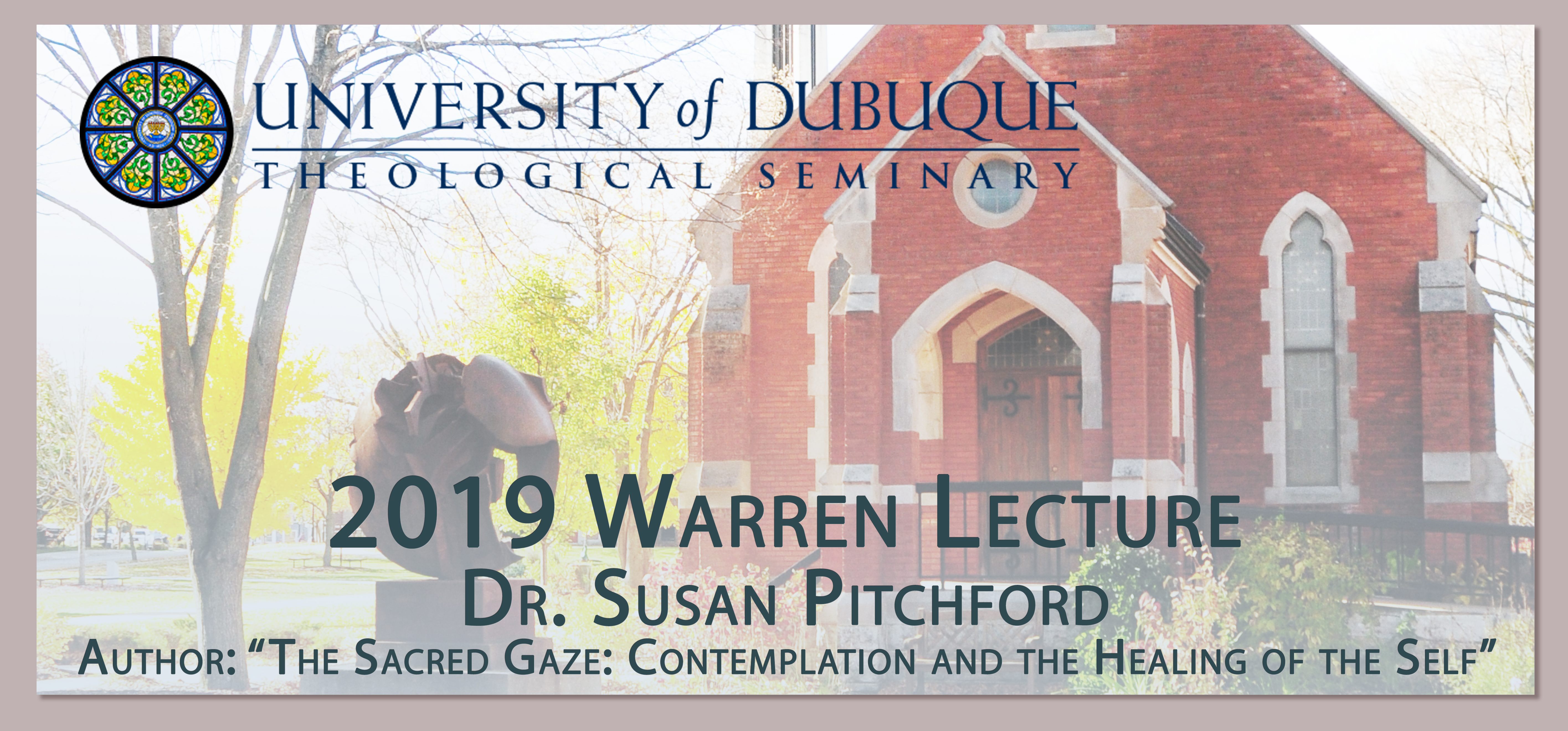 Video Links from August 6, 2019
Worship Service
Workshop
Presentation
---
Links to Spring Renewal Lectures: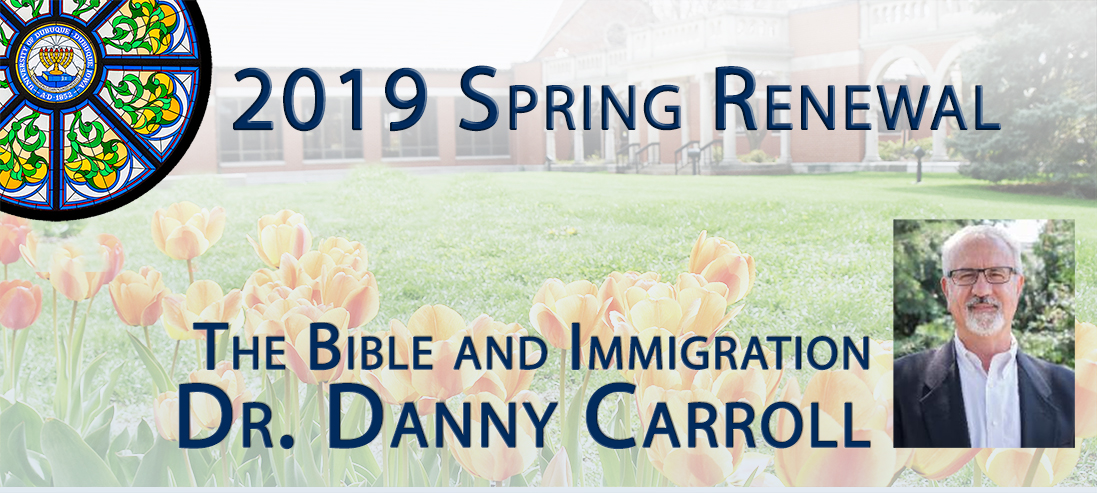 2019 Spring Renewal
The Bible and Immigration | Dr. Danny Carroll
March 25, 2019
8:30 a.m. Prayer Meeting
11:00 a.m. Worship - "Strangers and Foreigners, All: Migration Lessons for Faith"
12:00 p.m. Lunch on your own
2:00 p.m. Workshop - "The Bible and Immigration: The Scripture as Foundation and Compass"
5:00 p.m. Dinner & Lecture - "The Processes of Migration: Reading the Scripture with an Immigrant Lens"
7:00 p.m. Bonus Event! Wendt Lecture: Sarah Thebarge, author of The Invisible Girls and Well (Butler Hall, Heritage Center)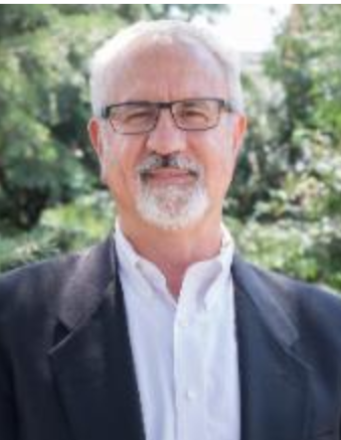 M. Daniel Carroll R, Ph.D.
Blanchard Professor of Old Testament: Wheaton College
Dr. Carroll is half-Guatemalan and was raised bilingual and bicultural. In his youth, he spent many summers in Guatemala and later taught at El Seminario Teológico Centroamericano in Guatemala City for thirteen years. The realities of Central America sparked Dr. Carroll's fascination with the Old Testament. The relevance of the biblical text for the challenges of poverty, war, and politics in those developing countries led him to a passionate focus on Old Testament social ethics and the social sciences.
To Register: CLICK HERE
---
---

CLPlus Spring 2019

Class offerings



Essential Greek Words for the Curious Christian 2.0
Instructor: Vanessa Espinosa
Date: April 8 - May 17
Cost: $120

Course Description: We will be working on Sophia, Agape, Soma, Psyche, Charis
Click here to register!
Finding Sabbath Rest
Instructor: Emily Blue
Date: March 11 - April 5
Cost: $100
Course Description: An introduction to the Sabbath as a Christian, with very limited information on the Jewish Sabbath. This course will focus on four different aspects of Sabbath: Sabbath rest, Sabbath play, Sabbath time and Sabbath community.
Click here to register!
Last modified: Thursday, November 5, 2020, 10:05 AM